Our Top 10 Favourite Uses for Concrete
Concrete may seem a little dull and although the material is made just of pasta and aggregates, there are so many possibilities and uses this material has. We have listed our favourite uses for concrete below, and we hope you take inspiration from them for your next project!
Driveways
Is your current driveway looking worse for wear? We would highly recommend considering a fresh concrete driveway. We have a lot of experience in providing fully fledged concrete driveways for our customers, so please get in touch if you are looking for a supplier! Once you have confirmed the shape and dimensions required, we can get going.
Garden Shed
Using concrete for your garden shed might not be the most obvious invention, however, it has been a new trend in recent years, with more and more people opting for concrete sheds, rather than an old-fashioned wooden one. Concrete buildings are able to withstand a lot more than their wooden counterparts and will last much longer.
Flooring
Although a bit more up-market, concrete flooring can really add something to your home. Perfect for modern homes, concrete flooring can be found in a variety of different options. Polished concrete flooring, in particular, is a big favourite!
Motorways & Roads
On the commercial side of things, concrete is used across the entire country on our roads and motorways. This means it is vital for the concrete to be of high quality and perfectly crafted for the purpose. We offer various different highway and utilities contracts for concrete, especially within construction and repairs contracts.
Extensions
Concrete house extensions ooze beauty. For house extensions, you need a really strong base of concrete that is suitable for its usage. The project requirements will determine which type of concrete you need to use, to ensure the building is safe and has longevity.
Hard Standings for Jacuzzis & Hot Tubs
Hard standings form a suitable base to put your jacuzzi or hot tub on, and prevent damage to the ground beneath it. A hard-wearing surface provides the hot tub with a strong foundation which also protects the product for years to come. We have provided hard standings for shed bases, hot tubs, garages and even log cabins!
Patios
Concrete is the most popular patio material in the UK, and there is a good reason for it. Concrete is a strong material that offers many decorative finishes. Your patio can make a huge difference to the overall look of your home, garden and general living space. Create a beautiful outdoor surface with a brand new patio!
Swimming Pools
Concrete swimming pools are of high quality and custom made, which means you can have any shape and design you want. Although we don't offer swimming pools, we can definitely provide the perfect concrete for the job if you have the rest of the pool design there. Concrete is a very strong material and therefore is perfect for a pool venture.
Bridges
Another major commercial mention. Concrete bridges offer versatility and quality and provide a look that you don't get with many other materials. Some of the most common bridge types using concrete include arch bridges, reinforced slab bridges, beam and slab bridges, and box girder bridges.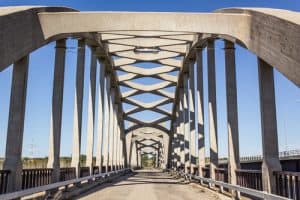 10. Creativity is Unlimited
There are so many different things you can use concrete for. Why not get creative and come up with your own idea? We would love to hear from you and see what everyone else is using concrete for.
At Green Circle Concrete we are committed to providing customers with quality ready mix concrete in South Wales. From domestic to commercial, we can provide you with the perfect concrete for your project, no matter what your requirements are. Please call us on 01656 668878 to order your concrete today!
Natalie is the content writer for Green Circle Concrete and updates our blog every month.