Maintaining concrete in cold climates: Winter Tips and Solutions
At Green Circle, we want to do everything we can to ensure that your concrete is receiving the ultimate maintenance this winter. With the cold temperatures sweeping in and the rain making an appearance, it is important to know how to protect your concrete to prevent it from cracking and no longer being suitable for use. Our expert team are here today to provide you with insight into the best tips and solutions to keeping your concrete maintained,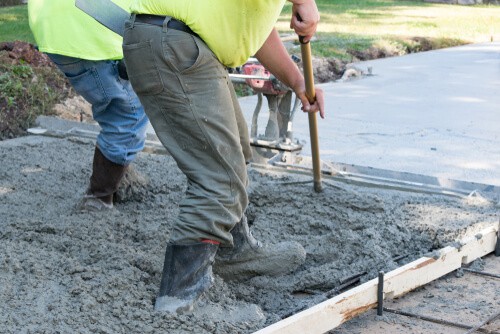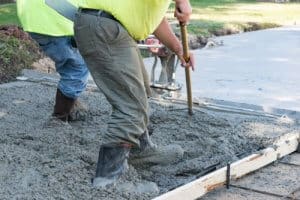 What is the importance of protecting concrete surfaces during winter weather?
Protecting concrete surfaces during winter conditions is essential for several reasons, if you do not maintain the material efficiently, it will be unlikely that it will be suitable for use. 
Here are some reasons why protection is important:
Safety – Dealing with cracked or damaged concrete can actually become hazardous, especially in places where people walk and drive. Protecting and maintaining the concrete surfaces can increase the safety of individuals who associate with these places.
Freeze-thaw-damage – When liquid seeps into the pores of the concrete, due to the cold weather, it freezes and expands. The expansion often leads to cracks, spalling and different types of damage. Protecting the concrete will help prevent the freeze-thaw cycle. 
Cost-effective – Keeping on top of maintaining and protecting your concrete surface will save you money in the long run. Having to replace or repair damaged concrete can be very expensive, and preventive measures are often more cost-effective.
How do you protect and maintain concrete surfaces during harsh winter conditions?
There are a few effective ways to protect and maintain your concrete this winter, with some of the remedies being able to save time, money and waste. We understand that winter conditions can get intense, which is why we have stocked up on a few life-hack solutions to share with you! 
Sealing – You should apply a high-standard concrete sealer to provide an effective protective barrier to prevent any liquids from entering the concrete.
De-icing agents – Use de-icing agents cautiously. Although they help to melt the ice, using too much can contribute to damage to the concrete. Choosing alternatives such as calcium magnesium acetate or sand instead of traditional rock salt can be very harmful to the concrete. 
Snow removal – Ensure that you remove snow from concrete surfaces using appropriate equipment such as a snow shovel or blower. Avoid using metal blades as they can scratch and damage the surface.
Suitable protective covers – Investing in protective covers can effectively save your concrete. Covering your concrete will help shield it from snow and ice and will come in handy use, especially if you are protecting freshly poured concrete.
Regular Cleaning – Keep concrete surfaces maintained by removing all debris, weeds and other materials that are known for trapping moisture. Removing these materials will help to prevent the growth of mould and mildew.
Avoid chemical damage – Be aware of chemicals such as fertilizers and de-icing agents as some of the chemicals can react with the concrete can cause wear and deterioration.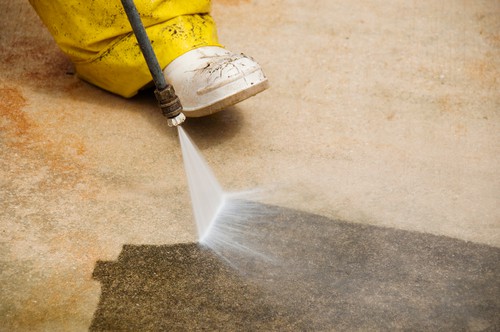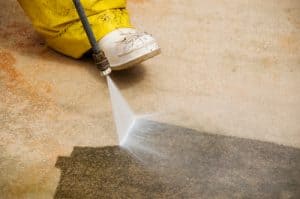 Are all de-icing agents safe for concrete?
Not all de-icing agents are suitable for use on concrete as some chemicals may be too harsh for the surface, resulting in cracks and deterioration. It is advised that you avoid the use of traditional rock salt as this can be very harmful to the reaction when associated with the concrete, and instead turn to more gentle chemicals such as Calcium Magnesium acetate or sand.
How do I fix concrete damage caused by winter weather?
At Green Circle, we understand how frustrating damage to your concrete caused by winter weather can be, so let's fix this. Repairing cracks and spalling is the most effective way of repairing your concrete in the winter, fully amending the damage that has developed in the cold climates. Here are the best remedies that can be easily implemented.
Repairing cracks:Â 
When repairing small cracks, it is always best to use a type of concrete crack filler or epoxy filler. Before applying the filler, ensure that you thoroughly clean out the cracks in the concrete. For larger cracks, it is advised that you use a concrete patch or mix some concrete and apply it to the damaged area. 
Spalling:Â 
If you encounter spalling (flaking or chipping), clean the area and fill the damaged area with a concrete resurfacer or patch. Make certain that the patch material is properly mixed and applied according to the manufacturer's instructions.