If you have been involved in any building works or consider yourself a DIYer, then you will likely be familiar with aggregates. Read on to find out more about how aggregates are sourced and used throughout the industry!
Building Structures
Aggregates are one of the most important ingredients for concrete, which is combined with a paste of cement and water. This makes it a vital material for millions of people, especially if you are a house builder or require concrete in any other scenario.
Railways
Crushed and recycled gravel and aggregates are used as a sub-base for ballast. The crushed stone and aggregates that you will find on the railway tracks are used to hold the wooden cross ties in place, which allows the rails to stay in place and secure. You can probably imagine how important it is to have high quality and suitable aggregates for this type of purpose.
Road Systems
Particularly for main roads, aggregates are used in a range of different forms, particularly crushed and untreated gravel. Aggregates are used for the foundation, base AND surfacing layer, making the stone an integral part of the make-up of road systems.
Engineering Projects
Similar to road systems, engineering projects such as bridges and tunnels rely on the aggregates to enable them to produce concrete for such projects. Gravel and sand within the concrete create a perfect texture for the concrete to be used in various different parts of the structure.
Decoration
Decorative stone and aggregates are suitable for more aesthetical purposes, such as for walls and more domestic jobs. Other types of decorative stone are also used for garden areas, which can be particularly nice to showcase.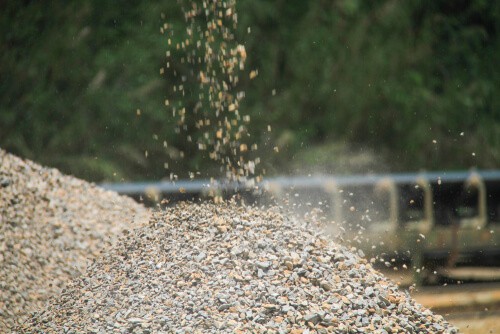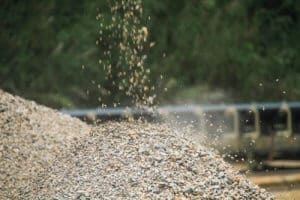 Where Are Aggregates Sourced?
The most common way that aggregates are sourced is through quarrying for both gravel, sand and sometimes rock. Â Aggregates are produced from natural origins such as quarries, the sea and they can also be produced through the process of recycling different materials that make up the aggregate itself. Modern production is almost all done through methods enabled by the development of quarries, which are used all over the world.
Where Can I Buy Aggregates in South Wales?
At Green Circle Concrete we quarry our own aggregates and limestone at our quarry in Bridgend. This allows us to provide high-quality aggregates and stone to a wide variety of clients across South Wales.
Our typical delivery jobs include Cardiff, Barry and Bridgend. However, we can deliver to many different areas of South Wales, ensuring that every customer is able to receive their materials in good time and within schedule. Collection services are also available if you would prefer to come and pick up your aggregates directly, this can also be arranged. No matter what requirements you have, we will do our absolute best to provide you with the perfect service and great materials.
For more information on the aggregates we have to offer you, please give our sales team a call on 01656 668878 and they will be happy to go through the many options you have.
Natalie is the content writer for Green Circle Concrete and updates our blog every month.